Announcing . . . Magic Words Sell - A Potent Cocktail Of Copywriting Success
WARNING:

If you want to know how to put words on paper
or on your website that can double, triple or quadruple your sales INSTANTLY which means you
can earn as much money as you desire
- then I urge YOU to devour every single word
on this website and then make the smartest investment ever . . . because your entrepreneurial success depends on it.


"YOU Have Just 50 Milli-Seconds Before
Any Visitor To YOUR Website Decides If They Will Stay Or Banish YOU To That Dung Heap In Cyberspace . . . Visit Your Competitors Website And Purchase Off Them . . . Which Means Unless Your Headline Smashes Your Prospects Between The Eyes Like A Sledge Hammer Smashing A Pea, You May As Well Surrender Your White Flag, Retreat To Your Safety Zone And Retire From The Internet - Because You Won't Make Enough
Money To Buy An Ice-Cream!"

I don't want visitors going to your website and giving you the flick in the 'blink of an eye' which is why YOU need to secure 'Magic Words Sell' over 15 hours delivered straight to your inbox in a matter of minutes . . . of hard hitting, No. B.S. pure content audios delivering the most potent, kick butt proven strategies on how
to create sizzling sales copy for your
online or offline business.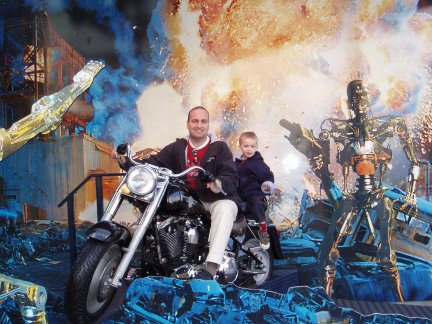 Trevor 'Toe Cracker' Crook
- The Crocodile Dundee Of Copywriting
From: Trevor Crook

Brisbane, Down Under, Australia

Gidday Friend and Fellow Entrepreneur,
Your Internet Success comes in a blink.

I was reading my local paper on Saturday morning and the following headline screamed at me, drew me into the article, compelling me to read every single word.

WHY?

Because it confirms what I have been telling people just like you for so long . . . now it's time for serious people to get what I am saying tattooed permanently to their brain - so it is NEVER forgotten . . . or get out of the entrepreneur game forever.

All too often I see sales copy that 'SUCKS' harder than a busload of hookers at a bachelors party - because the 'writer is too darn lazy' to do what needs to be done, preferring to take the easy option and then they 'bitch' and 'moan' about poor sales.

Writing sizzling sale copy is a science of proven, yet simple formulas - not something pulled out of a cereal box and certainly not rocket science to implement either.

" A $1,000,000 Web Business Site After
Consulting With YOU"
"Hi Trevor, would like to take this opportunity to thank you for the great distinctions you have provided to me regarding sales copy. My previous results have been extremely profitable in the past, but after consulting with you, my results have exploded to a new level. My site is averaging 4 –5 sales per day and counting. A Million Dollar Web Business Site, to be added to my other global business sites.
I sincerely thank you and appreciate your efforts."

- Nik Halik www.wealthsuperhighway.com

What's even worse is when a person is pulling good sales with crap copy. Sure is must be doing something right, yet I know that with more sizzling sales copy they will explode their sales from say 5 figures a month to six figures. That my entrepreneurial friend is just plain arrogance mixed with ignorance.
Harsh comments - 100% true.

"Net Success Comes In A Blink"
First impressions count, especially when you've only got 50 milliseconds. A Canadian researcher has found that Internet users take only one 20th of a second to decide if they like the look of a website.

Dr Gitte Lindgaard of Carelton University in Ottawa flashed websites for 50 milliseconds to participants and asked them to rate them from best to worst.

After repeating the exercise a number of times, participants were allowed to examine the websites properly and rate them again. In both instances, their finding were consistent. "My colleagues believed it would be impossible to really see anything in less than 500 milliseconds" Ms Lindgaard said.

She said the finding would cause online businesses to give more thought to how important it was their websites were constructed properly.

- Patrick Watson, Article printed in Courier Mail, Saturday 21 January 2006.

I feel at times I am hitting my head against a brick wall - to get you to understand just how critical your sales copy is to your online and offline success.

Being the stubborn man that I am - I am going to hit my head a few more times - until it bleeds if I have to, because I want you to succeed.

Keep reading if you need to, although the reprinted newspaper article above about the University study on websites, should be enough to get you to take action.

Just in case you are still not convinced . . .

Announcing: "Magic Words Sell"
Trevor 'Toe Cracker' Crooks Potent Cocktail
Of His Successful Copywriting Blueprint
Tele-seminars Mixed Together With Judgment Day
- The Ultimate Advertising and Direct
Response Business And Marketing Tool Kit

It Can Take Just One Letter . . . One Word . . . Or Just One Small Change To Double, Triple Or Quadruple The Response To YOUR Very Next Advert Or Marketing Campaign . . . Imagine What That Would Do To Your Sales & Profits?

NO, I am not talking through my butt here. I have proven this time and time again and the truth is, you an do it too once you know how.

Without sounding like I am bragging, I know just how powerful my Judgment Day package and my Copywriting Blueprint Tele-seminars . . . on their own, have been for my many satisfied customers based on their emails an testimonials - so I have decided to combine the 2 packages and give you the the biggest tool in the copywriting shed.

What was amazing for me, was the even more explosive results that some of my customers have been getting because they had both packages.

"A Bargain At 10 Times The Value"
"Trevor, I have learned more about sales copy and advertising from you in the last 6-8 months than I have in the last 15 years, total. Knowing how much there is out there about good copywriting, and looking at what other "copywriters" do, I can say that most of them couldn't write their way out of a high school Junior Achievement club. They deserve the average sales they get.

Anyone who doesn't own the JD package and the blueprint seminar, especially after how little money you charge for them, is just out of their mind.

If I said how much money your strategies have meant to my company in the last 6 months or so, most people wouldn't believe it. I will just say that the JD package and the blueprint seminar would have been a bargain at 10X the price of admission, literally.

No matter how much you charge. The fact is that you can't put a price on the value of this skill. Thanks Trevor."
- Everte Farnell, Business Owner, Tampa Florida USA


Makes advertising and marketing easy.

If you have ever wanted to get handed to you on a silver platter . . . ready to use & incredibly powerful strategies for magnetically attracting lots of new customers or clients, sell more & more often to current customers, one way or another create a flood of money rushing towards your door from each and every dollar you spend on advertising & marketing . . . then this may be the most important letter you ever read.
Here's Why . . .
Let's face it, your ad in the newspaper, yellow pages, flyer drops, direct mail, pay per click advertising, your website, in fact ANY advertising costs the same
- whether it pulls ZERO Sales, ONE SALE . . . 100 SALES or 1,000 SALES!

So, how do you make your sales message pull like crazy?
Unfortunately most business owners, internet marketers and entrepreneurs, flounder like a fish out of water and have no idea how to get the most out of every marketing dollar they spend.

To stay alive and be competitive, you can't just offer a quality product or service at a fair price . . . YOU have to know how to create compelling sales copy and then market effectively to your hungry crowd!

How would you like to stop being an 'advertising Victim'?

Finally get accurate measurable, quick results from each and every dollar you put into ANY kind of advertising, marketing, or promotion . . . without sending you broke?

At will, attract a flood of new customers?

At will, spark a huge cash flow surge?

Define and DOMINATE any 'target market' of your choice?

Incredibly what I'm about to reveal to you . . . can
're-invent' your entire online and offline marketing process for the better!

How would YOU, like to cut all the fat, waste, even the uncertainty out of your advertising?


"Marketing Tips Worth Their Weight In Gold"
"Trevor, I was very impressed with the two hour presentation you gave last weekend at Frank Garon's Product Creation Workshop in London.
The copywriting and marketing tips you gave are certainly worth their weight in gold. I learned more from you in two hours than I did at a recent Master-class Advertising and Copywriting seminar weekend in January of this year."
- Karen David, London, U.K. www.reikisuccess.com

The small group of savvy marketers, business owners and entrepreneurs who participated in my very private, closed door, pull no punches, pure content workshop on advertising and direct response marketing and my 10 x 1 hour sessions where I revealed my copywriting blueprint formula. . . discovered how to ignite their online and offline sales and profits – FAST.

When you invest in "Magic Words Sell" YOU will get 15 hours of adrenalin pumping, audios Of pure content plus all of the handouts . . . that will teach you exactly how to swamp your business with more cash than you've ever imagined . . . and leave YOUR competitors feeling like they're a one legged duck swimming in a crocodile infested creek!

You will get a proven and tested arsenal of Amazingly Powerful Advertising, Marketing, Direct Marketing, Customer/Client Attraction & Persuasion Strategies, a proven, 'paint by numbers' business tool-kit that has NO fluff, NO filler, NO slick B.S.

As an Advertising & Marketing Mentor . . . I am a serious student and I also educate my customers with the very same products/marketing tools that are being offered to you - that I personally use everyday!

This is a rare opportunity for YOU to become part of a select few, savvy business owners and entrepreneurs who are serious about their success . . . who want to create the kind of sales messages that compel your prospects to whip out their credit card or cash and purchase whatever it is you are offering.

"Trevor Is A Freakin' Genius"
"Trevor is a freakin genius! He makes understanding copywriting and copywriting principles, simple enough for someone who hates writing like me, easy to understand.

I have bought as much material as my wallet would allow from all the great known copywriters living and dead like:
Gary Halbert, Gary Bencivenga ,Ken McCarthy, Yanik Silver, so on and so forth and Trevor Crook is by the far my favorite! I love his "In your face" approach.

If Trevor say he will teach you something - He will teach you. If Trevor says you will make money from something you learn
from him - you will make money.

If Trevor says something won't work - it will not work!

Trevor is a true gentlemen and an honorable man. A hand shake is good enough for me to do business with him."

- Travis Robinson, author - The Success Vault.

"The Secret Weapon To Doubling
My Sales Is Trevor Crook"
"The secret weapon to being very successful in your marketing is Trevor Crook! After devouring your program, I am doubling my classes and may pay every time I do another course . . . because you taught me how to connect with my target audience.

BUT I have to tell you, when sales clients come into the
radio station they all want to work with me because I'm telling them their commercials suck and then I try to fix them with your tips!

I never thought I could be a great writer, but Trevor, your make it so easy even a radio guy can do it!

Thanks from your forever fan!"

- Wayne Kelly Morning Show Radio Host (Canada) & media coach

"I Learnt More About Marketing In
90 Minutes Than I Did In The Entire
3 Years Studying For My Degree"
"I first met Trevor in London at Frank Garon's Internet Marketing Seminar in September of 2005. His presentation literally blew me away. Trevor has a hard-hitting, straight-talking and no BS approach to marketing and selling both on and off the 'net.
Having just graduated after spending 3 years studying an honours degree in Internet & E-Business, with LOTS of late nights, I was compelled to take him aside and tell him just how much I appreciated his presentation.

The truth is, I learnt more about marketing and selling in the short 1 and half hours that I spent listening to Trevor than I did in the entire 3 years I spent studying for my degree. You can't go wrong with Trevor Crook."
- Zahid Saddique, London U.K. www.PeakInsideMyMind.com


At every seminar, in any part of the world, whether it's on marketing, the internet, mail order or advertising . . . the promoters and speakers all agree on one thing -

YOU need 'this' one skill!
And I'm prepared to help you get it - if you are serious.

I've Walked In Your Shoes

I do need to tell you . . . I wasn't born with a copywriting chip in my brain, and I didn't get a university degree in copywriting or marketing either.

I was an average student, who started school before I was 5 and I only completed 6 weeks of year 8 and then finished school at 14 years and 9 months.

No private schooling.

Nothing special . . . so if you think YOU can't create sizzling sales copy, even if it's just for your own business . . . well, that's just pure rubbish.

When it comes to business, I was probably in a position that you can relate to, when I decided to start my own business back in 1996, after quitting my job (Just Over Broke), as a Commercial Business Lending Manager to start my own Finance Brokerage/Business Consultancy business.

Even though I'd dealt with over 5,000 business owners from nearly every industry type (Over 200), pulling their businesses apart from a financiers' point of view . . . NOTHING could prevent me from the RUDE AWAKENING that I was about to experience . . .

How To Market My Business . . . Effectively!
I did the usual things . . . registered my business name, checked out what my 'competitors' were doing and then, off I marched to the graphic artist, the printer & the sign writer . . . so that they could get started on my business cards, letterhead, leaflet drops, brochures & signs.

At the time, it looked sensational . . . after all, my business name was at the top of everything and . . . I mean everything.

The 'cutesy' LOGO was there along with a whole lot of features (features DO NOT sell . . . BENEFITS do), as well as spreading the message that I had over 15 years in banking & finance, that you could trust me (yawn! yawn!) etc.
Back then, I didn't know ANY different because this type of advertising & marketing was what I was used to seeing.

The graphic artist, printer & sign writer all showed me examples of their work and told me that I needed an image, 'brand awareness' and name recognition!

What a load of garbage!

What made this seem even more convincing, was when I spoke to the Yellow Pages Rep and the Newspaper Rep.

These vultures 'confirmed' what I had already been told by all of the other ego stroking parasites from the institutional advertising world.

I said to myself . . . it must be true . . . they can't all be wrong . . . OR can they?
To be perfectly blunt, I know that my previous marketing efforts absolutely SUCKED!

I was committing 'Marketing suicide'!

Not a very pleasant term . . . but I would estimate that over 98.3% of Business Owners and entrepreneurs make these same mistakes!

If you are in the 2% who don't commit marketing suicide . . . who can crank out the kind of sales copy that sucks in the cash quicker than a casino on the strip in Vegas . . . there is no need for you to invest in my course.

On the other hand if you think for even a split-second that you could be one of in the 98.3% (be honest with yourself) who would like to discover how to at least double their sales without increasing their advertising costs . . . then YOU need to get your hands on my package now.


"He Is A Person That YOU Listen Too!"
"Trevor is one of only a few direct response copywriters that I know of who can make money hand over fist for his clients, and the best part is he guarantees it.

Would you rather pay a person that treats you like a number and gives you customer service like most government departments or, do you want someone that cares about your business, builds a healthy working relationship and constantly tries to help you achieve your maximum profit potential.

His 'bullet between the eyes' approach is exactly that, if you don't like it, then go to someone that will pussy foot around, tell you B.S. about your business, and cost you not only an arm and a leg, but your left kidney as well.

Unlike most testimonials, I'll tell you something, Yes I do know Trevor, and now I have the privilege of calling him a mate however, it all started when I decided to pull my finger out, take a bit of action, and build a better business.

Every time I speak to Trevor there is a constant stream of gold nuggets, ideas to take action on. Simply put, he is a person that you listen too."
- Stuart Crick,
Sydney NSW Australia



How To Wake Up The Advertising Genius Inside You

You CAN easily write compelling sales copy . . . once you understand the key principles and thinking process that drives prospects to hand over their hard-earned cash based on the choice of words you use.

Copywriting truly is the single most crucial skill you could ever possess. YOU are without a doubt . . . the best copywriter in the world for your business.

Without it your money-making abilities are handicapped!

You will either suffer poor, pathetic sales and either throw your white flag into the air . . . or be forced to pay a direct response copywriter such as myself, many thousands of dollars to create compelling, cash generating sales copy for you.

Dan Kennedy and You Are My Only
2 Copywriting Mentors
"Trevor, I am jazzed that you are going to do this!! You know that you and Dan Kennedy are the only two copywriting mentors I listen too (I have many other mentors for other areas, but for advertising and copywriting, it is you and good ol' Dan).

- Everte Farnell, Business Owner and Entrepreneur, Tampa Florida, USA.


If you seriously want to wake up the advertising and marketing genius inside YOU and get explosive results from each & every $$$ you spend on advertising . . . then look no further.

YOU may not agree with everything & that's o.k.
If it works though - does it really matter?

I want you to succeed!

I'd like to show you my 'Toe Cracker' style and I genuinely hope you'll become one of my next success stories.

Naturally, I cannot and will not guarantee your success . . . as I do not know your work ethic.

Making claims about your success is also against the law. What I can tell you with 100% confidence, is that I can dramatically increase your ODDS of SUCCESS.
(These results aren't typical and you may be less successful. Click here for earnings disclaimer.)

What I can teach you is straight from the hip . . . which is simple, easy to understand . . . so that you can instantly put into action, what you learn.

Fair enough?

Here Are 21 Compelling Reasons
Why YOU Should Get 'Magic Words
Sell' Before Your Competitors Do

I do not rattle of these facts for my benefit as time has long gone where I feel the urge to toot my own horn just to hear the music. I reveal them for your benefit.

FACT #1: I've written copy for clients that's pulled
in over $581,250 in just a few months.

FACT #2: A one page letter written for a client
pulled in over $200,000 the first time it
was used as a broadcast fax.

FACT #3: A 2 page letter, sent to 1776 clients,
generated 167 sales (a 9.40% response to
letter one) and grossed over $43,000 in
sales in a matter of weeks which means each
letter mailed was worth $24.21 in sales.

FACT #4: Another 2 page letter pulled consistently an
8% response for every 100 letters mailed,
generating an average of $1,800 in sales.
Wouldn't you like to know how to create the
kind of copy that's worth $18 for every
letter posted?
FACT #5: I have personally interviewed over 5,000
business owners, from small 'Mom & Dad'
businesses up to large corporations who turn
over hundreds of millions of $$$ every year.

FACT #6: Clients getting direct responses of 8%,
9%, 10%, 18% or better, using the methods
I teach or the copy I created for them.

FACT #7: As an in demand copywriter who's been paid as
much as $23,100 plus a royalty check of
$46,464, I think I'm qualified to help you
create your own kick-butt sales copy.

"No B.S. Just 100% Pure Useable Content"
"In my 40 odd years experience of managing small to large businesses and running my own business as a Certified Practising Accountant/Small Business Advisor I don't think I have come across anyone as straightforward and hard-hitting as Trevor Crook.

These days so much of what you see is 90% hype and 10% B.S. With Trevor there is no hype, no B.S. just 100% pure useable content in whatever he does. Trevor says it like it is and does not pull any punches.

If you are looking for success, either online or offline in business or as an entrepreneur, then Trevor is the person who can help you achieve it."
- Ray Posner, Wauchope, NSW Australia.

FACT #8: I'm one of only a few copywriters in the world
who are prepared to put their reputation on
the line and guarantee their copy. With a
typical sales letter costing between
$15,000 and $25,000 plus royalties and if my
ability as a copywriter was pathetic, I
would starve.
FACT #9: As an international speaker - I've run my own
boot camps, been a guest speaker at high
priced advertising and 'best of the best'
marketing seminars (Including; Matt Furey,
Yanik Silver, Jim Edwards, Bill Glazer,
Stephen Pierce, Marlon Sanders, Ted Ciuba),
featured on numerous teleconferences one of
which was listened to in 33 countries and
another one 'maxed out' the 100 people
capacity and turned another 100 or so people
away because the topic was white hot!

FACT #10: In just one 20 minute mentoring session, I
revised a killer strategy for a client that
gave him the tools to increase his leads by
a whopping 4,000% per week.

FACT #11: One 3 minute conversation with a customer
increased their sales by 25% in 7 days.


FACT #12:
One critique of a Pay Per Click advertising
campaign will slash my customers costs by
approx. $43,186.58 over the next 12 months.


Click Button To Register Securely Through PayPal
| Single Payment Option | 2 Easy-Payments Option |
| --- | --- |
FACT #13: Adding one '5 letter' word to a pay per click
advert increased the click through rate by
800% in a few days.

FACT #14: Taking a proven sales letter for a customer
and then adding more sizzling copy, I not
only increased the sale price from $49.95 to
$97 - my customer also doubled their sales.
The product remained the same. In effect,
increasing sales by nearly 400% - based on
the power of the right words.
"If you're not part of Trevor Crook's copywriting program, you cannot be serious about making money on the Internet. It's that simple. By implementing just a fraction of what Trevor teaches you will kick your business into high gear quicker than it takes a bald man to wash his hair."
- Jeff Williams, Los Angeles, CA
FACT #15: There are too many similar examples to list
here . . . one thing that is 100% guaranteed
- sizzling sales copy was involved in
every occasion.

FACT #16: I am real. I am current and I am doing what
you want to do.

FACT #17: You will get brutal honesty from me. I don't
believe in sugar coating anything for anyone
because, that's the only way you'll learn.
FACT #18: I've put in the blood, sweat and tears,
walked the plank, fallen into the water and
got my backside wet and more importantly
. . . I've studied from the masters. I am
still learning. If you ever think you know it
all . . . you're in for a big shock.

FACT #19: You haven't stumbled across some 'WANNA BE
PRETEND EXPERT'. Read the testimonials from a
sample of my happy customers.

FACT #20: My Proven Advertising and Marketing
strategies work in Australia, America, the
U.K.- for ANY business . . . in any part of
the world.

FACT #21: I have written sales letters for some of the
biggest internet marketers on the planet -
(Stephen Pierce, Frank Kern, Ed Dale just to
name a few).
(These results aren't typical and you may be less successful. Click here for earnings disclaimer
.)
Click Button To Get YOUR Copy Of Magic Words Sell Now
And Discover More Than 98.7% Of Business Owners And Entrepreneurs Will Ever Know About Copywriting
and How To Generate Sales Online
| Single Payment Option | 2 Easy-Payments Option |
| --- | --- |
Who Should Get Trevor Crooks 'Magic Words Sell' Package - The Most Potent Cocktail Of
Copywriting Success Strategies YOU Will Ever Find

1. ANY/EVERY small Business Owner in ANY Field OR ANY/
EVERY Prospective Business Owner.
2. ANY/EVERY manufacturer and business-to-business
marketer competing for business, supporting
salespeople n the field.
3. ANY/EVERY retailer or other business attracting
traffic to a shop, showroom, theatre, restaurant,
other place of business or to events.

4. ANY/EVERY sales professional who needs appointments
with truly qualified prospects.

5. ANY/EVERY doctor, dentist, accountant, financial
planner, solicitor, other professional involved in
practice building.

6. ANY/EVERY 'network marketer' Multi Level Marketer OR
Entrepreneur.
7. ANY/EVERY corporate CEO or Sales Manager interested
in greater return-on-investment from advertising.

Okay 'Toe Cracker' You Have Made Your
Point . . . What Am I Going To Discover
Over 15 x 1 Audio MP3's And A Truckload
of Notes, Bonuses and Copywriting Tools?

Very simply, You will get hours and hours of pure content on exactly what it takes to create your own compelling advertising or sales copy and then how to market your online and offline business correctly.

It could be the turning point of your financial life because I will teach you a true money-making, wallet fattening skill that can change your life forever -

'How to put words on paper or on your website that can double, triple or quadruple your sales INSTANTLY which means you can earn as much money as you desire'.

You will be blown away as I peel open my mind and deliver to you . . . in rapid fire . . . more ways than you could ever imagine to explode your sales.

"You Over Delivered On Solid Gold
Copywriting Advice"
"Trevor, I can't believe how much solid gold copywriting advice you delivered in this tele-seminar series. You truly over delivered. I am meticulously applying your ideas, tips and tactics in my business and seeing terrific results. Thank you!"

- Anna Johnson, Entrepreneur, www.kikabinku.com


I show you directly how to apply these principles to your business.

Is that a good problem to have or what?

When you experience that kind of feeling, I know I've over delivered and you know you made a wise investment.

Fair enough?
NOTE: If you need that kind of hyped up garbage then
please don't make the investment in Trevor 'Toe
Cracker' Crooks "Magic Words Sell" - The Ultimate
Direct Response Advertising, Copywriting And
Marketing Business Tool Kit", because I really
would prefer serious people only.

YES! - You can make serious money from copywriting, advertising and marketing and I personally know several people who make an absolute fortune . . . BUT let's be real for just a second.

I can't possibly teach you everything in 15 hours. Sure, I delivered a jumbo-jet load of cash generating principles and techniques for you to apply to your own situation.

How much money you make is going to be your decision
which means;

YOU can make as much money as you desire with your advertising as long as you listen, learn and take action.

YOU are going to discover a cash-generating advertising system so you can turn your marketing on and off like a tap which gives you total control of YOUR business and your life.
" Trevor Crook Delivers Excellent Copywriting And Marketing Tips"


"As one of your subscribers, I must say that I
rarely actually 'want' to read ezines or
newsletters anymore because the content is
rehashed. . . or weak.

Trevor, you are right on, straight to the point
and deliver excellent Copywriting and Marketing
tips that grab me and make me keep reading -
& not too many people can do that!"
- Frank Kern www.underachieversuccess.com

Here's Just A Small Sample Of What You'll Discover
· You'll discover the inside secrets of exactly what I do when I'm creating the kind of sales copy that has not only doubled or tripled my clients calls and sales, the kind of copy that pulled in over $581,250 in just a few short months for one client.
· Discover the kind of copy that's pulled in 8%, 9.4%, 10%, 18% or better responses . . . just from letter one.
· How to create killer headlines that hook in prospects like a giant gaff hook rips into a shark, commanding prospects to literally stop what they are doing so they read every single word as though their lives depended on it.
· At least 12 rules to follow when writing headlines. The difference between a good headline and a bad headline is the difference between SUCCESS and FAILURE in advertising.
· How to take a proven, money making headline, adapt it, model it to any business, including yours. How valuable do you think that would be?
· Discover 8 different types of headlines and how to use them in your business.
· How to advertise offline to drive people to your website which means more traffic and more sales.
· REVEALED: What the one and only task of your headline is. It's not what you think it is. This little gem is worth its weight in gold!
· You'll get a 9 point checklist to use when evaluating your headlines. On the average, five times as many people read the headline as read the body copy. If you haven't done some selling in your headline, you have wasted 80 percent of your money.
· Watch as I go through marketing pieces, looking at every possible angle, giving you the insight and knowledge that can save you thousands of dollars and countless hours of time in the process.
· See how to craft knockout offer after knockout offer by watching, listening, learning and discover the step-by-step process that allows you to produce the kind of sales and profits you've always dreamed of.
· Discover the Dynamite Detonator Switches that allow you to get inside your prospects head as though you were reading their mind, compelling them to whip out their credit card and place an order.
· You'll be amazed how you can take some copy, not change a word and simply change the layout, add some bullets, some bolding and explode your conversion rate.
· Imagine how powerful it would be to learn how to ethically swipe another copywriters 'picasso' (their headline, bullets, guarantee, the close, so that you end up with a brilliantly swiped letter that's been done the correct way. NO . . . blatantly knocking off someone else's letter is not copying. It's plagiarism!
· YOU will see how to bold, underline, use upper and lower case, highlight, change the font, use italics and lay your letter out with just the right balance needed, so that it appeals to your prospect and maximizes sales.
· Watch as I take real copy from real people, point out the overlooked opportunities that are more obvious than a festering pimple on their forehead, so they can explode their profits quicker than it takes a bald man to comb his hair.
· YOU will get ideas, tips, real-life marketing and copywriting examples that are current and ready to put into action immediately.
· Discover how to test and measure your copy to maximize your profits and slash your advertising costs.
· REVEALED: How adding one single letter to an advert increased the response by a whopping 300%.
(These results aren't typical and you may be less successful. Click here for earnings disclaimer.)
· My simple tips on how to write bullets that are blistering hot . . . which means your prospects are drawn further into your sales copy . . .getting them closer to buying your product or services.
· The wrong way and the right way to advertise. The wrong way is guaranteed to send you broke. Be WARNED! This is the type that nearly every advertising agency and newspaper rep in the world recommend you use. The right way can pull in more sales than you could ever imagine . . . for little or no cost.
· How to create powerful openings that compel your prospects to keep reading. If you bore them for even one second . . . you've wasted your money.
· How to come up with unique angles for your copy so that you leave your competition feeling like they're a one legged duck swimming in a crocodile infested creek!
· Watch, listen and even cringe as I critique copy for one of the attendees. This will be no picnic in the park. YOU will discover exactly what it takes to turn lethargic copy into a cash cow - FAST!
· Discover how to banish writers block once and for all. Go from 'reverse gear to fifth gear' in no time and watch that blank piece of paper overflow with copy before your eyes.
· YOU will learn how to craft killer guarantees, that can erase even the strongest objections from your prospects minds . . . compelling them to try your offer.
· How to create the right amount of urgency in your copy which makes your prospects feel the pain if they don't take action immediately.
· How to use takeaway selling in your copy to maximize your sales and profits.
· How to create killer yellow pages adverts that make readers go weak at the knees, compelling them to call you first. How would you like to increase your sales by 250% or more, just like many of my customers have?
· How to use testimonials in such a powerful way . . . they could double your business in 12 months. You will be amazed at how powerful these simple tricks are.
· Discover the killer techniques for writing bullets that are so hot your reader will get indigestion at lunch and insomnia at night until they own your product or try your service.
· See the 3 adverts one business owner tested. Each one cost exactly the same to run . . . each ad had similar wording . . . took up the exact amount of advertising space, however one ad pulled a staggering 1700% better response!
· See how I break every rule you've ever heard of about headlines that 'forces' people to read your copy. No one is teaching this one!
· Imagine being able to make a few tweaks to your Google Adword campaign so that you can double, triple or quadruple your Click Through Rate . . . increasing your database and generating more sales.
· Discover why your salutation can be costing you sales. Making just one simple change has been known to double sales instantly.
· REVEALED: My 'Paint-By-Numbers' strategies that I use to create profits . . . so that YOU can do the same.
· How to promote your business for under £500. NEVER again risk thousands of dollars on ill-fated advertising campaigns.
· How to build a relationship with your customer list & inject your own personality for profit.
· How to AVOID the Snake Oil Selling Scumbags on the Internet.
· Discover the 5 critical steps to sending an email which means you get your email opened and read which can increase your sales. It's great to make money while you sleep!
· The 3 key ingredients to creating continuity income which means you can guarantee your cash flow . . . for life.
· How to create an online income without a product, without a website, using the power of affiliate products. Discover how I generate an average of $557.53 per week and I see no reason why you can not do the same.
(These results aren't typical and you may be less successful. Click here for earnings disclaimer.)
· How to start an online newsletter website and get qualified prospects to subscribe, who see you as an expert.
· How you can afford to lose money on your first sale and still make money. YES, you might think I've lost my marbles. You are wrong!
· How to inject a story into your sales copy for maximum profit.
· Why discounting can send you broke - fast. There are times when you should discount however most business owners get this one wrong nearly every time.
· What perceived value is and how to use it to ignite your sales. I still get blown away at the responses this little baby generates.
· How to increase your prices 10% overnight and not lose one customer. Give yourself a pay rise the moment you discover this gold nugget.
· How to get your prospects more excited than a small child on Christmas day . . . using the awesome power of FREE BONUSES!
· How to ethically swipe the very successful 'Wall Street Journal' letter. Knock this one off and judge for yourself just how good it is.
· How to increase your sales and profits using multi-step marketing.
· How to edit your sales copy correctly. This is one skill that is easy to master . . . but so many people are too lazy to do it which means you can leap frog your competition - FAST!
• How To Turn Your Attitude Into Altitude which means you can instantly soar above your competition while they sit on the runway . . . going no-where.
· How to avoid the advertising & copywriting mistakes that at least 98.7% of business owners, internet marketers and online entrepreneurs make. Once you understand these mistakes . . . you can create sizzling sales copy that can blow your profits through the roof.
· Real examples of adverts and letters that I have personally written for customers which have generated bucket loads of cash.
· How to get clients to PAY YOU to create kick-butt sales copy for them. Imagine being paid $500, $1,000 even $2,000 or more . . . just to write an advert for a business owner.
Here's A Small Sample Of What
People Are Saying . . .
"Great advice on writing headlines, yellow pages ads and email marketing. Trevor's exercise on how to communicate how I describe my business in a benefit driven way and the great ways to inexpensively generate leads gave me incredible ideas for my business. I was very happy with today."
- Anna Johnson, www.keepyourkidssafe.com , Sydney NSW
"Mate, my head is like jelly! So many clear examples, your handouts supported the lessons with past clients to prove theories. It was great to be shown and NOT just told!"
- Andy Ireland, The USP Guy, Port Augusta, Sth. Australia
"Trevor, you explained it really well - no B.S. and you gave truck load of ideas. I thought everything was very clear and easy to understand. It opened a section in my head to loads of different ideas well worth the exercise."

- Jeremy Carn, Saltbush Surf & Leisure
Port Augusta, Sth. Australia
"You were generous with your ideas, content and time. You ensured everyone was happy to move onto the next subject, with all questions answered. I know now that I've got to stop assuming I know what my customers want, test and be patient.".

- Tim Wright, Mossman, NSW
"To be honest I enjoyed your style as well as the content. I always knew the importance of headlines, but I never knew why until now I now understand the importance of editing my copy which will allow me to take my uncut gems and turn then into polished diamonds."

- Daniel Turner, The Genie Centre, Kings Langley, NSW
"Trevor can make even a difficult subject like Lifetime Value of A Customer, seem as easy as pie. Even a beginner like myself, was kept fully informed and entertained. Never a dull moment and no need for extra questions.

Trevor gave great explanations on how to market to your customers, great examples with defined explanations."

- Con Mitropoulos, Marrickville, NSW
"I really appreciated that you gave real-world examples and specifics on everything you said as far as how you make things work plus - you gave specific resources. It was fantastic!"

- Stephen Georgulis, Penshurst, NSW
"You delivered on the importance of each stage of a sales letter. basically you provided a template to follow the formula. It was pure content!"

- Ray Posner, Discovery Marketing & Publications Pty Ltd, Wauchope, NSW
Lets Take A Look At What You Get When You
Invest In Magic Words Sell Package - The Ultimate Direct Response Advertising, Copywriting
And Marketing Business Tool Kit . . .
Copywriting Blueprint Teleseminar
Audio Mp3's - (Valued at $497)

You will get 10 hours of professionally recorded audio files of Trevor Crook's live Copywriting Blueprint Tele-seminars delivered to you as Mp3 audio files.
Starting from the offer right down to the PS. and everything in between you will get delivered to you, the same copywriting blueprint I use every time I create winning sales letters for myself or my customers.

Example:

Week one - I covered the very first crucial
step to writing copy. No, it's not the
headline.

Week Two - Headlines, subheads etc. 12 Rules to
follow, examples of killer headlines.

Week Three - Opening sentences, opening paragraphs,
bullet points and bullets.

Week Four - Story telling and why it's critical to
get this aspect right to avoid leaving so
much money on the table.

PLUS . . . over the entire 10 brain draining sessions I covered; guarantees, editing, layout, font size, type, bolding, name squeeze pages, Google Adwords, testing, 3 step letter sequences, email writing and much, much more.

In the final 2 hour sessions, I invited my good mate and SEO Guru, Travis Robinson to take center stage and cut through the B.S. about Search Engine Optimization and unleash his views and pearls of wisdom.

Now you may not of heard of Travis. That's because he flies under the radar like a stealth bomber where he is the secret weapon for several HUGE online Internet Marketers.

Judgment Day Seminar Audio Recordings
- (Valued at $514)
These 5 hours of audios of My Judgment Day seminar. These are pure content and deliver more advertising and marketing strategies than you could ever imagine. They cover everything I have outlined in this letter.


FREE Bonus No. 1

Big Fat Beefy Workbook
(Valued at $200)
This Big fat beefy workbook, 69 nine pages, contains all the notes and handouts that each attendee received during the Judgment Day seminar to follow along with. It will be as though you were there sitting in the audience without having to pay the airfares and accommodation – just to be there.


FREE Bonus No. 2

How To Promote Your Business
For Under $500 CD-Rom
(Valued at $123)
On this 77 minute audio interview, Trevor delivers killer strategy, one after the other on how to promote your business for less than $500. It doesn't matter what currency you use, what country you live in because these apply world wide. It's pure dynamite!

FREE Bonus No. 3

Headline Creator Pro CD-Rom. Creates At least 50 Money-Making Headlines Instantly
(Valued at $98)
Answer 4 simple questions about your advertising campaign . . . hit the 'create headline' button and you will have at least 50 headlines to use for your business.

These headlines are created from a 'vault' of very successful, cash generating, proven headlines and modeled to suite your answers.

It should be worth several hundred dollars.

When I've demonstrated this amazing software live during seminars it's sold like HOT cakes! It's yours FREE!

FREE Bonus No. 4

Dynamite Sales letters – A Swipe File Of Cash Generating Sales Letters From Arguably 12 Of The Best Direct Response Copywriters In The World
(Valued at $67)

You will get over 400 pages in this collection of sales letters which collectively, have generated millions of dollars in sales for the writers or their customers.

This swipe file, which includes several of my own letters, is provided to you on a CD-Rom which means you can look at it without needing a crane to lift it
. . . if it was printed and bound as a book.

FREE Bonus No. 5

How To Create Headlines On Steroids That Hook YOUR Prospects Into Reading Your Copy
- ( A $118 value)
What you will discover in these pages will teach you how to turn your headlines into eye popping hooks that literally force your prospects to read your adverts and sales messages and how to develop outrageous marketing promotions to swamp your business with cash paying customers.


OK. Let's talk a little more about the investment required.

No doubt you've been doing a mental calculation and thinking . . . this will cost me a fortune . . . right?

WRONG!

If you purchase everything separately . . . the entire package would come to $1,517 however if you invest in the whole 'truck load' of amazingly, powerful, advertising, marketing, Direct Marketing, customer attraction & persuasion strategies, everything I've just described . . . YOU get the lot for just $497.00

HURRY! The first 27 people can slash another $300 off the already ridiculous price and YOU will Pay Just $197. This offer expires:


After that, I will increase the package to what it's really worth - $497 which is still a bargain.

EASY PAYMENT OPTIONS:

You can also take the 2 easy payment option
- 2 x $113.50 each, spread 30 days apart.

I urge you to act on this opportunity today, right now while it is fresh in your mind.

Click Button If YOU Want To End Poor Sales By
Securing YOUR Copy Of Trevor's Pull No Punches
Words That Sell Audio Package

| Single Payment Option | 2 Easy-Payments Option |
| --- | --- |

As you can see, my 'Magic Words Sell' - The Ultimate Direct Response Advertising, Copywriting And Marketing Business Tool Kit" gives you everything you need to succeed in your business.

What you'll be getting is the knowledge that cuts the waste & fat out of your advertising & marketing plus a guaranteed system to explode YOUR Sales & Profits through the roof!

There's nothing left to chance & there's nothing for you to guess about. When you get your package, you will realize just how much of your hard earned money has been wasted on in-effective advertising & marketing.

Maybe you are wondering if this will work for you?

Perhaps you believe this won't work for your profession or industry or you believe that this type of advertising & marketing doesn't work?

Well I can honestly say with 100% certainty that it does and it will. The amount of success depends on how much effort you are willing to put in.

One thing that has not changed in over 150 years is this . . . Your Prospects & Customers are asking you - "What's In It For Me?"

The most important question that YOU need to answer in your business, the answer that once you have answered it, will have such an astounding impact on your profits is -


"Why Should I Choose YOU Over & Above Any & Every Other Competitor Within YOUR Industry?"


Your Customers & Prospects are asking this question in their minds . . . without YOU even realizing it is. Multi-Million $$$ Fortunes have and are still being made purely on the answer to this question alone!

When you buy this package . . . you will get the tools that empower you to answer this question to the best of your ability!

I fully understand that not everyone will be in a position to take advantage of my offer and that's OK, but

I must ask you

. . . "How can YOU afford NOT to get YOUR hands on my package?"

If YOU are looking for a "magic" pill to fix all the problems in your life, you're not open to new ideas, or can't or won't follow instructions OR YOU would prefer to Work in YOUR Business & NOT ON YOUR Business . . . then this is not going to work for you either.

It's not magic. You're going to have to work for your success.
Click Button If You Seriously Want To Make More Money Than YOUR Competitors - Secure Your Tele-Seminar Spot NOW!
| Single Payment Option | 2 Easy-Payments Option |
| --- | --- |
Just in case there is still some lingering doubt - I have decided to make your purchase absolutely Risk FREE
. . . with my extraordinary guarantee:
60 Day, Unconditional Money Back Guarantee

I personally guarantee that you will be absolutely thrilled with your 'Magic Words Sell Mp3 audio package - I am providing you with a ZERO Risk, Unconditional Money Back Guarantee.

I invite YOU to test-drive "Magic Words Sell" for a FULL 60 DAYS

If you are not absolutely thrilled with it, eager to keep it and can't see the profits from continuing, you can change your "maybe" to an emphatic "no", and get a FULL refund.

No one will ask you any questions.

No Hassle. No 'fine Print'.

Simple and straightforward; you are 100% delighted with what you get in my kit or I want you to ask for a full refund.

I know the value that you will get and I'm prepared to 'back myself' that it does everything that I said it would. This is the fairest Guarantee that I can Offer!

YOU be the judge, jury . . . and executioner if I'm wrong!

How Fair Is That Guarantee?
I f you're serious about igniting your sales and exploding your profits - you owe it to yourself to
get started right way.

Click Button To Secure Your Own Copy Of Trevor Crook's Magic Words Sell Audio Package and Start Listening In A Matter Of Minutes.
| Single Payment Option | 2 Easy-Payments Option |
| --- | --- |

ORDER NOW and get ready to wake up the copywriting genius inside you.

It doesn't matter if it's 2:00 a.m. in the morning!


The Ball Is Now in Your Court . . .

I've done everything I can to prove how valuable my
"Magic Words Sell Audio Package containing 15 hours of the biggest tools in the Copywriting and Marketing tool shed.

The ball is now in your court . . . it's up to you which way it bounces.

If you want to 'DOUBLE-FAULT' . . . don't register.

On the other hand, if you want to serve an 'ACE' . . . then you know what to do.
Click Button And Get ready To Get The Success YOU
Deserve - Register Securely Through PayPal
| Single Payment Option | 2 Easy-Payments Option |
| --- | --- |
Warmly
Trevor Crook
Trevor 'Toe Cracker' Crook
PS. After 27 people I will pull the $197 offer and
increase the price to $497. If your order number is
28, I'm sorry you just won't qualify for my special
$197 offer, you will have to pay $497 . . . you
can't afford to wait.
Offer EXPIRES:

PPS. Without sounding like a broken record . . .
this is only for those people who are serious about
their success, who want to create sizzling sales
copy, following a proven system, that can double,
triple or quadruple their sales and leads.

It's not for tire-kickers, skeptics,
procrastinators or people seeking get-rich-quick
schemes. I may be blunt, but I am telling you the
truth.

If you are serious . . .

then I urge you to click here now and grab your copy securely through PayPal.
| Single Payment Option | 2 Easy-Payments Option |
| --- | --- |
© Copyright 2006 Trevor Crook and Copywriting International
Phone: 818-531-7581
Email: support@magicwordssell.com

While every attempt has been made to verify the information on this web site and the product being sold, neither the product owners, distributors, agents or publishers assume any responsibility for any error, inaccuracies, and or omissions or assume any responsibility or liability whatsoever on behalf of any purchaser or reader of these materials. Any slight on people, organizations, companies or products are unintentional. The income statements and examples on this website are not intended to represent or guarantee that everyone will achieve the same results. Each individuals success will be determined by his or her desire, dedication, marketing background, effort and motivation to work and follow the program. There is no guarantee or duplicate results stated here.
You recognize any business endeavour has inherent risk for loss of capital.